My Blog
Posts for tag: nutrition
By Four Oaks Dental
November 19, 2018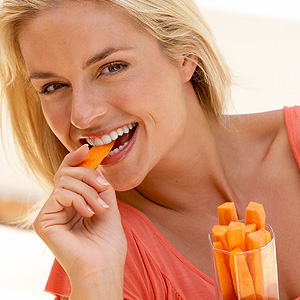 Your diet can play as important a role in your dental health as brushing and flossing. What you eat (particularly sugar) could increase your risk of tooth decay despite your hygiene habits. And vice-versa: a nutritious diet may help boost your preventive efforts even more.
Let's look at two very different approaches to diet and see how your dental health is likely to fare under each.
A High Sugar/Low Fiber Diet. Modern western diets heavy with processed foods are inundated with two particular types of refined sugars. The first is sucrose, which comes mainly from either beets or sugar cane. Foods (and beverages) may also contain a refined sugar from corn known as high fructose corn syrup. Refined sugars are added for taste to thousands of products like cake, candy, soft drinks or even condiments like catsup. These "free" sugars are easily processed by bacteria into acid. Combine that with fewer fibrous vegetables in the diet and you have a recipe not only for obesity and other health issues, but tooth decay as well.
A High Fiber/Low Sugar Diet. Fruits and vegetables make up a large part of this kind of diet, while added free sugars much less so. That doesn't make this diet sugar-free: all plant products contain simple sugars produced by photosynthesis. The difference, though, is that these sugars — glucose, fructose and sucrose (natural, not the refined versions) — are more slowly absorbed into the bloodstream during digestion because of the fiber content of fruits and vegetables. You'll also receive other nutrients like vitamins and minerals necessary for good health. Eating this kind of diet will help decrease the risk of tooth decay.
So there you have it: eat more fresh fruits and vegetables and restrict your intake of processed foods and sweets. You may also want to fine-tune a few items to maximize decay prevention: for example, eat starches in their natural form (whole grains, beans or certain fruits) as much as possible rather than refined or in combination with added sugar (cakes, cookies, etc.). And while fresh fruits with their naturally occurring sugars aren't a significant factor in tooth decay, dried fruits (especially with added sugar) might.
Bon appétit!
If you would like more information on proper diets for better oral health, please contact us or schedule an appointment for a consultation. You can also learn more about this topic by reading the Dear Doctor magazine article "Nutrition & Oral Health."
By Four Oaks Dental
March 14, 2018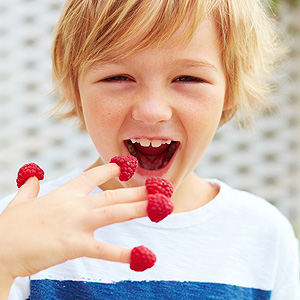 Want to give your kids the best start possible for a lifetime of good dental health? The most important thing you can do is train them in effective brushing and flossing. It's more than having a nice smile and fresh breath: these hygiene tasks remove the daily buildup of bacterial plaque, the primary cause for both tooth decay and periodontal (gum) disease, which are most responsible for poor oral health.
But those aren't the only habits they should be cultivating. Here are 3 tips for helping your child develop great dental health habits.
Encourage healthy eating. Teeth and gums are like other parts of the body: they need the "building blocks" found in nutritious foods to help grow strong, healthy tissues. By focusing on a diet leaner on processed items and richer in whole, less-processed vegetables, meats and dairy products, you'll be helping your child build strong defenses against dental disease.
Keep sugary snacks under control. Of all the items in your child's diet, sugar could have the greatest impact on their teeth. Disease-causing bacteria thrive on this particular carbohydrate, multiplying and producing mouth acid—the main enemy of tooth enamel—as a byproduct. So, limit sugary snacks as much as possible, opting instead for more nutritional between-meal treats. In fact, try to make sure they only consume sugary treats at mealtime, not in between.
Encourage an end to thumb-sucking or pacifiers by age 3. Most infants and very young children suck their thumbs or, alternatively, a pacifier. There's no harm in this habit unless it extends into later childhood where it could affect their bite. You can avoid this outcome by encouraging your child with mainly positive reinforcement to stop sucking their thumbs or other objects before their third birthday. Your dentist can also help with tips and support in those efforts.
If you would like more information on dental care for your child, please contact us or schedule an appointment for a consultation. You can also learn more about this topic by reading the Dear Doctor magazine article "Help your Child Develop the Best Habits for Oral Health."